"Regulatory Competition and Subsidiarity
in Corporate Governance
in a Transatlantic Perspective"

12th July 2004, Bibliotheque Solvay, Brussels
Mario Draghi
Vice Chairman and Managing Director
Goldman Sachs

(see a copy of his speech)

---

Mario Draghi, a graduate of the University of Rome, earned his PhD in Economics from the Massachusetts Institute of Technology in 1976 and subsequently served as Professor of Economics at the University of Florence from 1981 to 1991.

He was Director General of the Italian Treasury from 1991 to 2001 and served as Chairman of the European Community's Economic and Financial Committee. He was also a member of the G7 Deputies and Chairman of Working Party 3 (OECD). In 1993 he was appointed chairman of the Italian Committee for Privatisations. He served as an advisor to the Bank of Italy in 1990 and was an Executive Director of The World Bank from 1984 to 1990.

Mario Draghi's corporate experience developed both as a lawmaker, having chaired the committee that re-drafted Italian corporate and financial legislation, and as a former board member of several banks and corporations (Eni, IRI, BNL and IMI).

He is a member of the Board of Trustees of the Princeton Institute for Advanced Studies and has been an IOP Fellow at the Kennedy School of Government, Harvard University. In June 2003 Mario was appointed to the Board of Trustees of The Brookings Institution.

Mario Draghi joined Goldman Sachs as a partner in January 2002 and is Vice Chairman and Managing Director.

The ECGI is grateful for support for the Launch Conference from

Telecom Italia

The European Commission

Goldman Sachs International
May 2, 2013, 10:14 a.m. EDT
ECB cuts rates as Draghi says more room to act
Draghi says monetary policy is "extraordinarily accommodative"
By Polya Lesova, MarketWatch
NEW YORK (MarketWatch) — The European Central Bank delivered on Thursday a widely expected cut in its benchmark interest rate, with its president saying monetary policy has been "extraordinarily accommodative" and the bank stands ready to act further if needed.
Following its meeting in Bratislava, Slovakia, the ECB's governing council said it decided to lower its main refinancing rate by 25 basis points to 0.50%, meeting market expectations.
Markets tackle ECB rate cut
The European Central Bank cut it main interest rate by 0.25% to 0.5%. Also, U.S. markets will look to rebound from Wednesday's selloff. Michael Casey has details.
The ECB also said it will "continue conducting the main refinancing operations as fixed-rate-tender procedures with full allotment for as long as necessary," and at least until July 2014.
This measure represents "liquidity insurance for the banking system," ECB President Mario Draghi said in a press conference following the governing council's meeting. "This is a measure that benefits all kinds of banks."
The combination of this liquidity measure and the cut in the benchmark interest rate is "especially important," according to the ECB president.
At his press conference Thursday, Draghi also said that the ECB's monetary policy has been "extraordinarily accommodative."
The ECB head said there was "very strong prevailing consensus toward an interest-rate cut" at Thursday's meeting, with prevailing consensus toward a cut of only 25 basis points. Asked whether the ECB may lower rates again in future, Draghi said: "We look at all incoming data and we will monitor them closely. And we stand ready to act if needed."
The rate cut was widely expected after recent data showed a decline in euro-zone inflation and deterioration in some economic indicators such as purchasing managers' indexes. Euro-zone annual inflation dropped to 1.2% in April from 1.7% in March. The ECB aims to keep inflation rates below, but close to, 2% over the medium term.
"Draghi clearly kept the door open to additional action," said Marc Chandler, global head of currency strategy at Brown Brothers Harriman.
Draghi noted the "low underlying price pressure over the medium term," adding that inflation expectations are "firmly anchored."
"Weak economic sentiment has extended into spring of this year," he said. "The cut in interest rates should contribute to support prospects for a recovery later in the year. Against this overall background, our monetary policy stance will remain accommodative for as long as needed."
After the ECB decision was announced, the euro EURUSD -0.84%  initially rose to an intraday high of $1.3217, according to FactSet data. However, during Draghi's press conference, the euro turned sharply lower and recently trading at $1.3085.
Draghi "seemed more open to a cut in the deposit rate and it is this that drove the euro lower after trading choppily initially," said BBH's Chandler. The ECB's deposit rate now stands at zero.
The ECB also said Thursday the interest rate on the marginal lending facility will be cut by 50 basis points to 1.00%.
"This is clearly an effort by the ECB to encourage banks to lend," said Craig Erlam, market analyst at Alpari Ltd. "However, I don't see this having any impact on the real economy as it doesn't address the fact that banks don't want to lend when the economy in stuck in recession and businesses don't want to borrow when the outlook is so grim."
Polya Lesova is MarketWatch's New York deputy bureau chief. Follow her on Twitter @PolyaLesova.
Mario Draghi
From Wikipedia, the free encyclopedia
Mario Draghi (Italian pronunciation: [ˈmaːrjo ˈdraːɡi]; born 3 September 1947) is an Italian banker and economist who succeeded Jean-Claude Trichet as the President of the European Central Bank on 1 November 2011. He was previously the governor of the Bank of Italy from January 2006 until October 2011. In 2012 Forbes nominated Draghi 8th most powerful man in the world.
Background
He was born in Rome, where he studied at the Massimiliano Massimo Institute[2] and graduated from La Sapienza University under the supervision of Federico Caffè. Then he earned a PhD in economics from the Massachusetts Institute of Technology in 1976 with his thesis titled Essays on economic theory and applications, under the supervision of Franco Modigliani and Robert Solow.[3] He was full professor at the Cesare Alfieri Faculty of Political Science of the University of Florence from 1981 until 1994[4] and fellow of the Institute of Politics at the John F. Kennedy School of Government, Harvard University (2001).
From 1984 to 1990 he was the Italian Executive Director at the World Bank. In 1991, he became director general of the Italian Treasury, and held this office until 2001. During his time at the Treasury, he chaired the committee that revised Italian corporate and financial legislation and drafted the law that governs Italian financial markets. He is also a former board member of several banks and corporations (Eni, Istituto per la Ricostruzione Industriale,[5] Banca Nazionale del Lavoro and IMI).
Draghi was then vice chairman and managing director of Goldman Sachs International and a member of the firm-wide management committee (2002–2005).[6]
Draghi is a trustee at the Institute for Advanced Study in Princeton, New Jersey and also at the Brookings Institution, in Washington, D.C.
In his capacity as Bank of Italy governor, he was a member of the Governing and General Councils of the European Central Bank and a member of the Board of Directors of the Bank for International Settlements. He is also governor for Italy on the Boards of Governors of the International Bank for Reconstruction and Development and the Asian Development Bank.
In January 2006 Draghi was appointed Governor of the Bank of Italy, and in April 2006 he was elected Chairman of the Financial Stability Forum; this organization which became Financial Stability Board in April 2009 on behalf of the G20, bringing together representatives of governments, central banks and national supervisors institutions and financial markets, international financial institutions, international associations of regulatory authorities and supervision and committees of central bank experts. It aims to promote international financial stability, improve the functioning of markets and reduce systemic risk through information exchange and international cooperation between supervisors.
On August 5, 2011 he wrote, together with the immediate past governor of the ECB, Jean Claude Trichet, a letter to the Italian government to push for a series of economic measures that would soon be implemented in Italy.
ECB
Candidacy
Draghi was frequently mentioned as a potential successor to Jean-Claude Trichet, whose term as President of the European Central Bank ended in October 2011.[7] Then, in January 2011, German weekly newspaper Die Zeit reported, with reference to high-ranking policy-makers in Germany and France, that it is "unlikely" that Draghi will be picked as Trichet's successor.[8] However, in February 2011 the situation became further complicated when the main German candidate, Axel Weber, was reported to be no longer seeking the job, reviving the chances of the other candidates.[9] On 13 February 2011 Wolfgang Münchau, associate editor of the Financial Times, endorsed Draghi as the best candidate for the position.[10] A few days later The Economist wrote that "the next president of the world's second-most-important central bank should be Mario Draghi".[11] On 20 April 2011 The Wall Street Journal reported that "Wolfgang Schäuble, Germany's finance minister, is open to Mr. Draghi for the post of ECB President".[12] A few days later the German newspaper Bild endorsed Draghi by defining him the "most German of all remaining candidates".[13] Contrary to previous reports about France's position, on 25 April it was reported that President Nicolas Sarkozy saw Draghi as a full-fledged and an adequate candidate for the job.[14][15]
On 17 May 2011 the Council of the European Union – sitting as Ecofin – adopted a recommendation on the nomination of Draghi as President of the ECB.[16] He was approved by the European Parliament and the ECB itself[17] and on 24 June 2011 his appointment was confirmed by the European leaders.[18] Draghi began leading the Frankfurt-based institution when Trichet's non-renewable eight-year term expired on 31 October 2011. Draghi's term runs from 1 November 2011 to 31 October 2019.[19] Though France long backed Draghi's candidacy, the country held up the appointment toward the end, insisting that Lorenzo Bini Smaghi, an Italian official on the ECB's six-member board, cede his post on the board to a French representative.[18]
Concerns were also expressed during the candidacy about Draghi's past employment at Goldman Sachs.[6][20] Pascal Canfin (MEP) asserted Draghi was involved in swaps for European governments, particularly in Greece, trying to disguise their countries' economic status. Draghi responded that the deals were "undertaken before my joining Goldman Sachs [and] I had nothing to do with them", in the 2011 European Parliament nomination hearings.[21][22]
Presidency
In December, 2011, Draghi oversaw a €489 billion ($640 b.), three-year loan program from the ECB to European banks. The program was around the same size as the US Troubled Asset Relief Program (2008) though still much smaller than the overall US response including the Federal Reserve's asset purchases and other actions of that time. Draghi's ECB also promptly "repealed the two foolish rate hikes made by his predecessor …Trichet [and] … stepped up the bond purchases from struggling euro-zone nations" to help with the debt crisis, commentator Steve Goldstein wrote in mid-January, 2012. At that time, "Draghi and all of his colleagues (the decision was unanimous) chose not to cut the price for private-sector loans [below the 1% achieved with the "repeal"], even when he forecasts inflation to fall below the targeted 2% later this year." As such, Goldstein concluded, Draghi would leave more moves to national leaders Sarkozy and German Chancellor Angela Merkel and central banks, contrasting Draghi's actions with those of the Fed's Ben Bernanke.[23]
In February 2012, Nobel prize laureate in economics Joseph Stiglitz argued that, on the issue of the impending Greek debt restructuring, the ECB's insistence that it has to be "voluntary" (as opposed to a default decreed by the Greek authorities) was a gift to the financial institutions that sold credit default insurance on that debt; a position that is unfair to the other parties, and constitutes a moral hazard.[24]
Late in February, 2012, a second, somewhat larger round of ECB loans to European banks was initiated under Draghi, called long term refinancing operation (LTRO). One commentator, Matthew Lynn, saw the ECB's injection of funds, along with Quantitative easing from the US Fed and the Asset Purchase Facility at the Bank of England, as feeding increases in oil prices in 2011 and 2012.[25]
Awards and honors
2009 honorary distinction in Statistics (University of Padua)

[

27

]

2010 honorary Master in Business administration (Vicenza, CUOA Foundation).

[

28

]
References
External links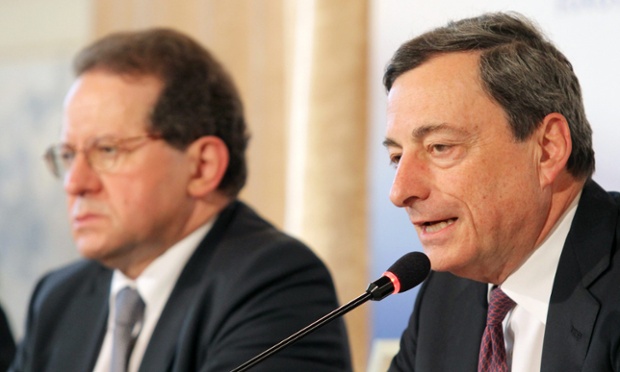 On our daily blog we report on the turmoil in the bond, stock and currency markets – as well as the political dramas at the heart of the eurozone crisis.
DER=0 WIDTH=300 HEIGHT=600 ALT="Advertisement"></A> </NOSCRIPT>
E.C.B. Cuts Key Interest Rate to 0.5%, a New Low
Daniel Roland/Agence France-Presse — Getty Images
Published: May 2, 2013
BRATISLAVA — The European Central Bank cut its benchmark interest rate to a record low Thursday, a mostly symbolic move that could lift morale in the euro zone but is unlikely to jolt the Continent out of recession.
Multimedia
The E.C.B., meeting in Bratislava, Slovakia, cut its benchmark interest rate to 0.5 percent from 0.75 percent, which was already a record low. It was the first change in interest rates since July 2012 and the bank's fourth cut since Mario Draghi took over as president of the E.C.B. in November 2011.
The central bank will continue providing unlimited loans to banks at the benchmark interest rate "as long as needed" and at least until mid-2014, Mr. Draghi said at a press conference after the announcement.
Even at its new low of 0.5 percent, the E.C.B.'s benchmark rate remains higher than the 0.25 percent rate the Federal Reserve has had in place since late 2008. On Wednesday, the Fed said it would maintain its stimulus campaign, buying $85 billion a month in Treasury and mortgage-backed securities. The Fed added that it would consider adjusting its efforts to spur growth and reduce unemployment in the United States.
A cut by the E.C.B. was widely expected after a series of economic indicators in recent weeks foreshadowing an extended downturn in the euro zone, with recession even threatening the seemingly unstoppable Germany economy. On Thursday, two stalwarts of corporate Germany, BMW and Siemens, warned of lower profits for 2013 because of the downturn in European markets.
Many economists argued that the E.C.B. was practically obliged to cut rates. Inflation in the euro zone was just 1.2 percent in April, well below the E.C.B. target of about 2 percent. The central bank is sworn to maintain price stability above all else, which includes heading off deflation — a downward spiral in prices that can be even more destructive than inflation.
But there is widespread skepticism about the likelihood that the rate cut will do much to restore the flow of credit in countries like Italy and Spain, which are in the midst of long-term slumps. The cut could have negative effects in Germany, where low interest rates have fueled steep rises in home prices in some cities.
"A rate cut will only have a small impact on the economy but it will signal an easier monetary policy stance," Marie Diron, an economist who advises the consulting firm Ernst & Young, wrote in an e-mail ahead of the decision.
Many banks in Europe, whose shyness to lend the E.C.B. is trying to address, may regard the cut with mixed feelings. While the new rate will lower the cost of raising money, the cut may also reduce the profit margin on mortgages or other forms of lending. Many banks in Europe are barely profitable and can ill afford any more problems.
Some economists argue that there is little the central bank can do to force-feed credit to small businesses in countries like Greece and Portugal that are suffering prolonged downturns. Banks' reluctance to grant loans reflects the sad fact that many businesses and consumers are poor credit risks, Richard Barwell, an economist at Royal Bank of Scotland, wrote in a note to clients.
Mr. Barwell referred to a recent E.C.B. survey that found that the biggest problem for businesses in countries like Italy is finding customers, not credit. The E.C.B. cannot help businesses with that problem, he wrote. Still, he said, "the E.C.B. has reached the point where it has to do something."
A cut may, however, help some exporters by helping to reduce the value of the euro compared to the dollar and other major currencies. A lower official interest rate tends to make it less attractive to hold euros, and drive down the exchange rate, making European products cheaper in foreign markets.
A rate cut "would be a sign that policy makers understand it is time to find a way to compete," Marco Tronchetti Provera, chief executive of the Italian tire maker Pirelli, said during an interview last week.
The E.C.B. also cut the higher rate it charges for overnight loans, the so-called marginal lending facility, to 1 percent from 1.5 percent. The benchmark rate of 0.5 percent, known as the main refinancing rate, is what banks pay to borrow for a week or more and is the rate that normally has the most powerful effect on the economy.
The E.C.B. left the rate it charges banks to park money at the E.C.B., the deposit rate, at zero. There has been speculation in the past that the E.C.B. would cut the deposit rate below zero, charging banks to park their money, in order to discourage lenders from hoarding cash rather than issuing loans. But there was fear that move could have unintended consequences.
And in another step to ease the credit crunch in southern Europe, Mr. Draghi said the E.C.B. would also consult with European Union institutions on how to revive the market for asset-backed securities, in which outstanding loans are bundled and sold to investors. A more lively market for asset-backed securities could also help lending, although Mr. Draghi did not immediately explain what steps he had in mind.